How does a water park break through the operating bottleneck
Pudate_time:2020-11-03read_num:935 preople
In recent years, water parks have entered into the track of rapid scale development. Water park products have gradually expanded from the scarce products many years ago to the regional level of urbanization. The presence of two or more water parks in the same city has become the normal competition, and the market competition pressure has gradually intensified. How to distinguish rivals in the same city, break through the bottleneck of operation at the same time, differentiated marketing has become the key to the survival of water parks. So how does a water park break through the bottleneck of operation?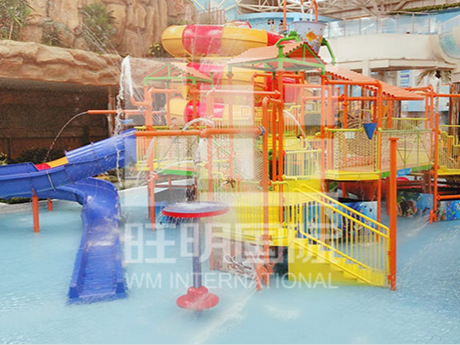 1. Highlight the theme:
Water park project buildings, water park facilities, landscape, guidance sign system, performances, activities, clothing, merchandise, etc., all need to be related to the theme to be conveyed, all elements are to present the theme and serve. In addition, in the water park project planning also according to local conditions, make full use of the original terrain and old buildings, houses, reservoirs theme cultural packaging.
2. Establish brand imprint:
Like a product, if you want to impress a customer, you have to give him a strong reason not to refuse to buy -- to buy something, to make them feel "it's got to be bought, it's got to be you. Try to make your brand interests more aggressive, because only in this way, you can "kill a way" in the thousands of troops.
3. Market Orientation:
In the era of experience economy, people-oriented, to meet the psychological needs of tourists as the ultimate goal, water park development is the market basis. China's water Paradise customer market positioning is generally relatively extensive, with the intensification of market competition, the need to constantly study the market changes, innovation amusement projects, to meet the market demand. Some developers began to tailor water parks and water recreation facilities in the face of specific markets, and also consciously strengthened the target of customer market in theme selection and project design.